An interesting experiment result using the challenge substrate, contamination and radiation only. A very interesting mix of cells in the genome, although, in retrospect, I don't think I actually fulfilled any of the mentioned challenge goals.
Substrate:
https://www.dropbox.com/s/vnvitf7tebbv3 ... trate?dl=0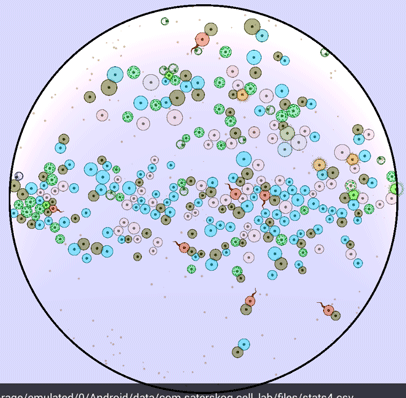 Mainly this is an exercise in my re-learning how to document and share my experiments AND to turn my skills with Splunk (FREE data analytics software) against this simulation data.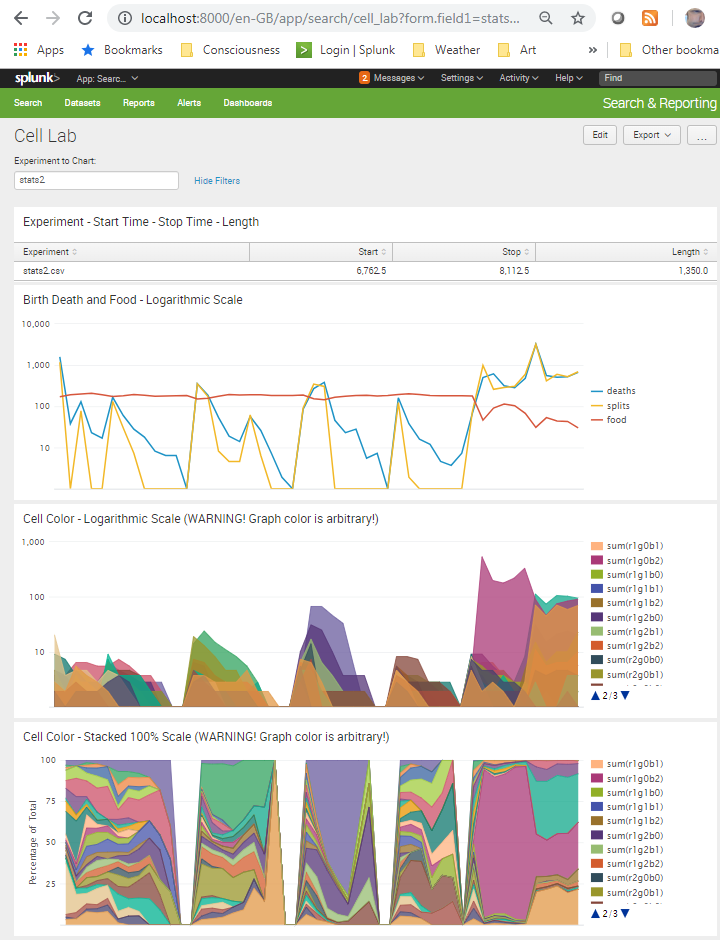 Top chart

is the birth and death rate relative to available food.

Middle chart

is the total number of cells by color-group (WARNING: Graph color in Splunk does NOT correspond to Cell Lab game color).
NOTE: Top and Middle chart scales are logarithmic progression (1, 10, 100, etc.) not linear (1, 2, 3, etc.)

Bottom chart

is the percentage of the total number of cells by color-group.
All I have to do is type the CSV name corresponding to the experiment I want to chart into the box at the top, "Experiment to Chart," and viol la! I'm sure I can find other interesting things to pull out of this, but I wanted to share what I came up with so far because it looks so cool! One can see extinction events, the genome evolve over time, more efficient and stable, as you showed in your chart.
Speaking of efficiency... I can have Splunk express the efficiency of the ecosystem as a single ratio, by dividing the number of births (splits) by the available food mass. More experiments!